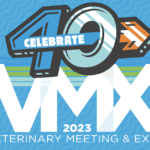 It was an absolute pleasure to have so many of you join us in Orlando for the 2023 Veterinary Meeting and Expo! Our time together began on Saturday with the Learning and Leadership Continuing Education Track, an AAIV and K-State Olathe sponsored program, which featured a lineup of knowledgeable speakers sharing insights and advice helpful in the veterinary profession.
The following day, the board of directors convened for their first meeting of the year. They deliberated on ways to enhance the value for AAIV members and considered potential new programs and improvements to existing ones.
Our networking reception on Monday was also a great success, where we heard from AAIV President, Allison Sateren. Allison shared updates on what we accomplished in 2022 and our plans for 2023, which includes more industry-focused webinars, in-person and virtual networking receptions, a new website set to launch in early March and compensation data that will be published soon for members to view.
We want to extend a big thank you to all of those who visited the AAIV booth, attended the networking reception and remain active members of our organization. We value your support and engagement!