Learning and Leading with AAIV and K-State Olathe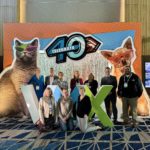 By Ellen Lowery
Learning and Leading with AAIV and K-State Olathe Recap
American Association of Industry Veterinarians and Kansas State University Olathe presented the annual Learning and Leading continuing education track at VMX 2023. The program featured speakers who have experienced success outside of traditional practice in roles with industry, academia and consulting.
The day started out with the important topic of feedback. Dr. Kemba Marshall, director of veterinary services for Land O'Lakes Purina Animal Nutrition Center complex gave two presentations: Giving the Gift of Feedback and Receiving the Gift of Feedback. She shared the importance of feedback and actionable steps on growing this key professional skill.
Megan Brashear, RVT, VTS (ECC), senior manager of veterinary nursing at the Purdue University Veterinary Hospital, spoke on Assuming Positive Intent. She shared personal insights and practical tips and advice to increasing mental resiliency and reacting more positively to the world around us with the goal of improving work experiences in our profession.
Kara Burns, MS, MEd, LVT, VTS (Nutrition), VTS-H (Internal Medicine, Dentistry) shared her experience with Courageous Change. She spoke on the impact of stepping outside one's comfort zone and embracing opportunities to personal and professional fulfillment and success. Dr. Bianca Zenor, director of global medical affairs with IDEXX, talked about the importance of professional identity when working in positions outside traditional clinical practice.
The program wrapped up with a presentation by Dr. Ellen Lowery, clinical professor and director of the Purdue University Veterinary Hospitals, who spoke on the importance of trust in building successful teams and delivering results. The track was well-attended and the topics resonated with a mixed audience representing all facets of the profession. Mark your calendars now for the VMX 2024 Learning and Leading track for Saturday, Jan. 13, 2024.